Gardner Minshew report card vs Jets: Eagles earn bounce-back victory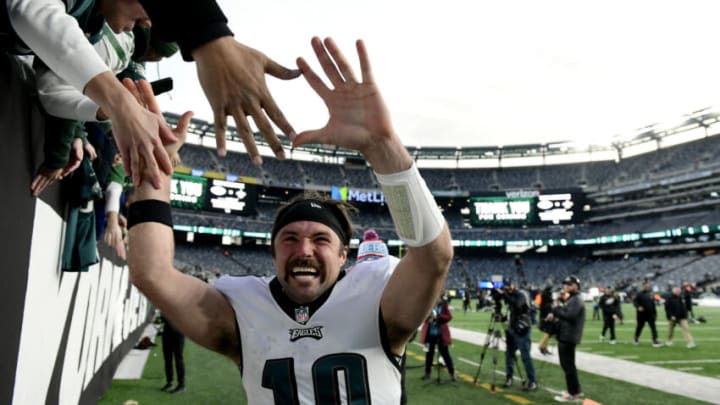 Gardner Minshew #10, Philadelphia Eagles (Photo by Steven Ryan/Getty Images) /
Gardner Minshew, Philadelphia Eagles (Mandatory Credit: Imagn Images photo pool) /
Gardner Minshew's best throws versus the Jets in Week 13.
Whenever someone completes the first 11 passes they throw and finishes a game with an 80-percent completion percentage, there isn't much that you need to criticize. Gardner Minshew connected on 20 of his 25 passing attempts, he didn't put the ball in harm's way, and from an Xs and Os standpoint, though we cringe at using words like 'masterful' (it just feels like we're overstating something), he was as close to being masterful as someone making their first start this late in the season could be.
In terms of his best throws, one has to point to his touchdown passes, both of which landed in the hands of Dallas Goedert. Take a look at both.
Credit Boston Scott for executing that rub route properly on the second toss. As you're well aware, Philadelphia's inability to run that play correctly has erased three touchdowns from the board this season, but in terms of Gardner Minshew's best throws, you have to reference two huge third-down conversions in tense moments. Quez Watkins was on the receiving end in both situations.
On the second of which, the Eagles are faced with 3rd and nine with 10:17 remaining in the third quarter. Minshew allowed his routes to develop. He didn't abandon the pocket, and the result was a 28-yard completion to Quez Watkins down the left sideline that set Philly up in field-goal range.
Again, it was a great day for Mr. Minshew.