Philadelphia Eagles backup mentioned in intriguing trade scenario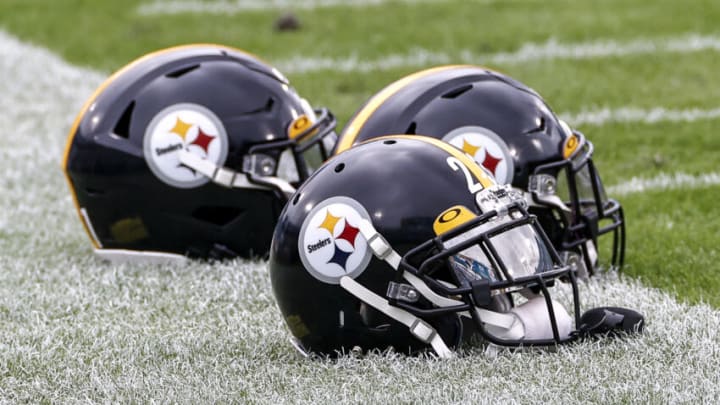 Pittsburgh Steelers helmet (Photo by Don Juan Moore/Getty Images) /
Let the rumors, trade scenarios, and mock drafts commence! Say what you want about Jalen Hurts, but truer words have never been spoken than when the Philadelphia Eagles' QB1 sat with members of the media and stated that each of the 31 teams that will fall short of Super Bowl glory failed to accomplish their ultimate goal this season.
Though it hurts, a second Vince Lombardi Trophy at Eagles headquarters will have to wait. Most of our discussions now revolve around how this team gets better and heading into 2022's offseason, roster turnover will be a big part of the discussion.
As a matter of fact, it already is.
Bleacher Report details a trade scenario involving the Philadelphia Eagles' backup QB.
Perhaps one of the better moves the Philadelphia Eagles made this season came on October 25th when they traded Joe Flacco back to the Jets for a conditional sixth-round draft choice and promoted Gardner Minshew to the second quarterback on the depth chart. That actually helped Philly secure a win in Week 13 as a huge second half buried the New York Jets.
No one's saying that Joe Flacco couldn't have beaten the Jets. You never know though. Have you seen some of that guy's recent performances?
Minshew's performance in Philly's win, albeit one versus one of the NFL's inferior teams, has people talking about 'the mustache' and 'Minshew Mania' again as evidenced by QB2's name coming up in possible trade scenarios.
Here's something of note if you missed it. Recently, Bleacher Report detailed two trade scenarios involving Philadelphia. One ships Minshew off to an unofficial in-state rival, the Pittsburgh Steelers. The other adds another weapon to the Eagles' offense.
Credit Alex Kay, the writer of this one, for a nice write-up. Here's some of Kay's reasoning for why he thinks a Steelers 2023 fourth-round draft pick would be enough to convince Philly to part ways with Minshew.
"NFL.com's Ian Rapoport believes Minshew will be a hot trade target, especially after the 25-year-old's recent performances filling in for Jalen Hurts… Pittsburgh doesn't have a viable succession plan in place (for Ben Roethlisberger), as backups Mason Rudolph and Dwayne Haskins have both failed to show they could be a long-term solution under center… Rapoport reported that "most teams view Minshew as at least a bridge starter with upside," making him a great low-cost pickup."
As mentioned, Kay's other trade scenario naming the Birds details a potential swap in which Philadelphia lands Calvin Ridley from the Atlanta Falcons by giving up one of those 2022 first-round draft picks. That's been discussed before.
5 decisions that helped save the season
Minshew joining the black and gold hasn't been discussed as often, but whether you agree with either of these theories or not, here's one of those things that you can bet on. Theories like these will be tossed around fast and frequently as we move towards free agency and the next NFL Draft.