State of the NFC East: Ranking the Eagles defense vs rival units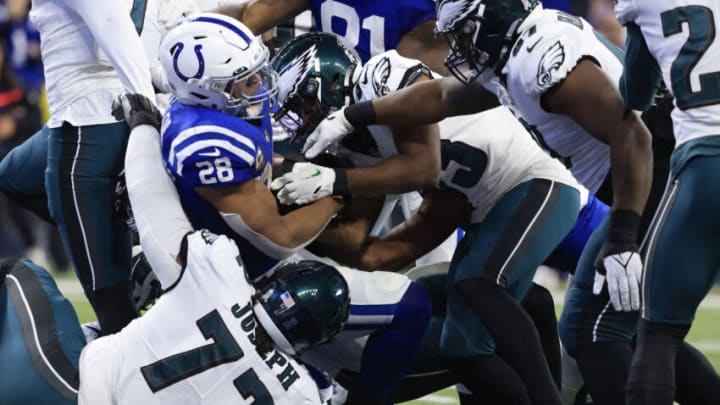 INDIANAPOLIS, INDIANA - NOVEMBER 20: Jonathan Taylor #28 of the Indianapolis Colts runs past C.J. Gardner-Johnson #23 of the Philadelphia Eagles while scoring a touchdown during the first quarter at Lucas Oil Stadium on November 20, 2022 in Indianapolis, Indiana. (Photo by Justin Casterline/Getty Images) /
Jayron Kearse #27, Dallas Cowboys (Photo by Cooper Neill/Getty Images) /
The numbers are misleading, but the Cowboys' defense statistically has been the NFC East's second best through weeks ten and 11.
If it wasn't for the 40-3 victory over the Vikings, the Cowboys might not be the second-ranked team in the NFC East defensively through Week 10 and Week 11, but they blew out the Vikes and that helped balloon a few numbers.
Let this be a lesson to you. Stats don't always tell the full story. Let's be real. In Week 10, this unit gave up 31 points to the Green Bay Packers, so Minnesota's three-point explosion means Green Bay and Minnesota's offenses averaged 17 points versus the Dallas defense collectively.
Talk about skewed numbers huh? In any sense, we're rating these teams based on what they've done these past two weeks, and a phenomenal showing recently almost cancels out a pedestrian outing two weeks ago.
Stopping the run hasn't been a strength of the Cowboys'. They've given up an average of 140 yards rushing while allowing a touchdown. In fairness, however, they've also given fewer passing yards than any other NFC East team, leading the way with an average of 159.
The Cowboys have given up the most passing touchdowns (three), all of which came by way of the Aaron Rodgers to Christian Watson connection.
Dallas' defense found its way to the quarterback nine times. That's the best among the NFC East's four franchises through Week 10 and Week 11. Seven came versus the Vikings.
Safety Jayron Kearse tallied ten tackles, a fumble recovery, and a sack. He's been one of the stars of the show during this stretch. Dallas gets its shot versus the aforementioned Giants and Saquon Barkley in front of a national audience on Thanksgiving evening. They are favored to win, and if they come through, they'll stretch their winning streak to two games.