Eagles star Darius Slay says he was 'this close' to joining the Ravens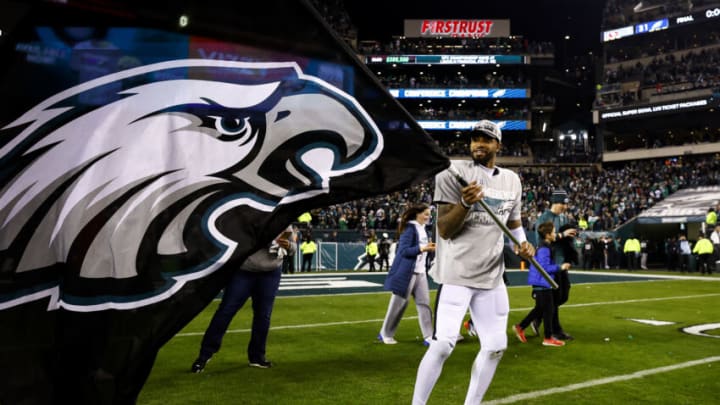 Darius Slay, Philadelphia Eagles (Photo by Kevin Sabitus/Getty Images) /
When reports circled that stated the Philadelphia Eagles were expected to release Darius Slay, many were stunned. Shortly after, Big Play took to Twitter to thank the City of Brotherly Love and Birds fans. Eventually, the Pro Bowl corner began implying he might actually stay before we then learned, in the early morning hours of the next day, Slay and vice president/general manager Howie Roseman found a way to keep him in the fold.
That kept the five-time Pro Bowler from hitting the open market. However, on his Big Play Slay Podcast, courtesy of The Volume (click here for their YouTube channel), Slay claimed he was 'this close' to representing another flock of birds while calling another nest home next season.
Here's a quote straight from the source.
"This close, a Baltimore Raven. I was this close, this close. But, you know I wanted to be an Eagle (and) I stayed an Eagle."
Things were shaky for a little while, but Darius Slay remains with the Philadelphia Eagles.
For a moment, we had all resigned ourselves to thinking it appeared evident that Darius Slay would be parting ways with Philly. The Eagles brass went so far as to allow his agent Drew Rosenhaus to seek a trade.
Assumably, there's a possibility that Slay was asked to take a pay cut and decided against doing so, and that's where the discussions of release came from. It has also been rumored that Philly found the resources to sign him after C.J. Gardner-Johnson, who had been named as a priority, forced the team to go with 'plan B' after rejecting their offer. The discussions about joining the Ravens may have come during that time.
Ultimately, we all know how things turned out. Darius Slay did not become a Raven and agreed to restructure the final year of his contract and signed a two-year extension on March 16th.
A five-time Pro Bowl selection, Big Play has served as the Eagles' top cornerback on their depth chart since being traded to the team in 2020. His career has spanned ten NFL seasons, in which he has amassed 26 interceptions, 135 passes defended, and 533 total tackles.
How would the depth chart have looked if Darius Slay had been traded or released?
The cornerback room could have looked a whole lot different in Darius Slay's absence. Had he departed, the Eagles would have been left with James Bradberry, Avonte Maddox, Zech McPhearson, Mario Goodrich, Josh Jobe, Josiah Scott, and newly signed Greedy Williams. They also have defensive back Tristin McCollum listed on their injured reserve.
There are questions about whether or not Bradberry is a CB1, but many feel he'd be fine as a top corner. That doesn't satisfy questions about who plays on the opposite side of the formation. Might that have led Philly to seek a top cornerback early in the NFL Draft? Names like Devon Witherspoon, Christian Gonzalez, or Joey Porter Jr. come to mind.
How does the starting secondary look entering the season?
The Eagles lost the top two safeties from last year's depth chart, C.J. Gardner-Johnson and Marcus Epps, but they ultimately made up for it. While much of the cornerback room will look the same, the secondary as a whole will look different.
Roseman knew an addition needed to be made, so he brought in Terrell Edmunds, a former Pittsburgh Steelers starting safety. He appears to slot into a starting role alongside Reed Blankenship (we'll see what happens during the remainder of the offseason). The coaching staff has shown a lot of trust and confidence in the latter.
At cornerback, Slay and Bradberry are back on the outside while Maddox retains his slot role. Although the secondary has changed some, the hope is that Blankenship and Edmunds can step into the spotlight and succeed. Again, we'll see if other bodies are added later.