Intriguing stats involving opposing offenses on the Eagles schedule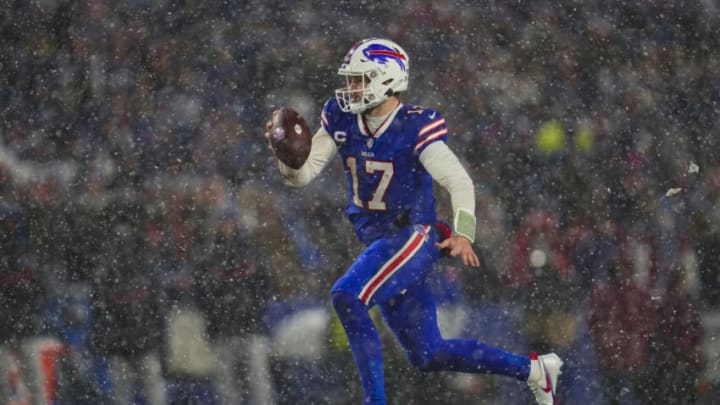 Josh Allen #17 of the Buffalo Bills (Photo by Cooper Neill/Getty Images) /
The Eagles' defense faces its share of dynamic offenses in 2023.
Before the 2022 NFL season began, the Philadelphia Eagles were walking into another campaign knowing they only had one team on their schedule that finished among the previous season's five best teams in terms of yards gained from scrimmage. That team was the Dallas Cowboys, 2021's most prolific offense, one that gained 6,919 big ones during the regular season.
In 2023, things are a tad different. the Eagles have three teams on their schedule that finished among last season's five most productive offenses: the Kansas City Chiefs, Buffalo Bills, and San Francisco 49ers. Philly also gets their shot at six of the 2022's top ten offensive attacks.
Last season, they only played three teams that ranked among 2021's ten best offensive attacks. The Green Bay Packers, Dallas Cowboys, and Arizona Cardinals are on that list.
Place that thought in the back of your mind. While you're doing so here are a few other stats that may get your attention.
Six of the Eagles' opponents in 2023 ranked among the top ten scoring offenses last season.
Might we see a lot high scoring games in 2023? It could happen. Philadelphia's high-powered offense takes on six of the NFL's top-scoring machines from the 2022-2023 season.
Four of those six teams crossed paths with Philadelphia in either the regular season or during the postseason (the Chiefs, 49ers, Cowboys, and Minnesota Vikings). Here's what's interesting. Two of those four teams were held to seven points, the Vikings in Week 2 and the Niners during the NFC Championship Game.
Philly's secondary completely shut down Minnesota's vicious passing game in Week 2, and Darius Slay and Avonte Maddox combined for three interceptions that night.
During the NFC Championship Game, the Birds brought the pressure all night to San Fran's backfield as Haason Reddick collected two sacks on the evening.
Five of the Eagles' 2023 opponents finished among the NFL's ten most prolific passing attacks last season.
Philadelphia's secondary will really be challenged in 2023. Five of the opponents they'll face finished last season ranked among the top ten passing attacks. Those teams are the Vikings, Chiefs, Bills, Tampa Bay Buccaneers, and Miami Dolphins.
Tampa's passing game figures to have a different look this year without Tom Brady. Baker Mayfield or Kyle Trask will battle for the starting job. Having faced Minnesota's passing attack successfully should give the Eagles some confidence in Week 2. We'll see what happens with Tua Tagovailoa and if he can stay healthy.
Patrick Mahomes has been a hard man to stop for every team. He hasn't been a picnic for the Eagles either. Don't forget aboutJosh Allen. His big arm poses a challenge to Philly's secondary too.
No team gave up fewer total passing yards or fewer passing per game last season than the Eagles, so they have that to hang their hats on. Philly will most certainly be well prepared for the offenses they face, but make no mistake about it. The Vikings, Chiefs, Bills, Tampa Bay Bucs, and Dolphins' coaching staffs will have to do their homework too.
Four of the Eagles' 2023 opponents finished last season ranked among the top ten rushing attacks.
It isn't surprising to see the four opponents on Philadelphia's schedule who ranked among 2022's top ten rushing attacks are the 49ers, Giants, Cowboys, and Bills. They could all accomplish the same feat this season. We'll see how things go with the G-Men and Saquon Barkley.
San Fran's offense is built on rushing the ball. It doesn't seem to matter who Kyle Shanahan plugs into the lineup. Every player he adds works, so adding someone of Christian McCaffrey's ability has truly made this offense dangerous. He has battled injury historically, Can he bring the same level of elite production that he has in the past?
Again, things with Big Blue and Barkley seem to be up in the air, but if he plays and stays healthy, he's probably a shoo-in for another 1,000-yard season. The good news for Eagles fans is he hasn't run for more than 100 yards versus Philadelphia since Week 12 of the 2018 season.
Tony Pollard (Dallas) will try to build on his first 1,000-yard season, and he will see more action on the field this season with Ezekiel Elliott out of the lineup. The aforementioned Josh Allen isn't just an elite passer. Like Jalen Hurts, the Bills star makes things happen with his legs. He notched 762 rushing yards and seven rushing TDs last season.
Here's the high note we'll end this on. Yes, the opposing offenses on the schedule are impressive. Some may even be better this season but don't count out the Birds' defense. Yes, they have endured a lot of change, but the cornerstones of this group and much of the veteran leadership are still intact. Expect Sean Desai's unit to produce at a high level this year.