One more look at Eagles kicker Jake Elliott's record breaker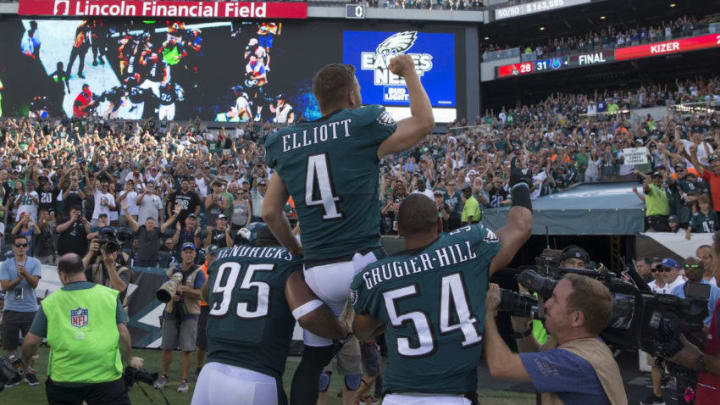 PHILADELPHIA, PA - SEPTEMBER 24: Kamu Grugier-Hill /
Regardless of what happens from now on, Jake Elliott is in the hearts of Philadelphia Eagles fans forever.
Here's something to think about. Philadelphia Eagles kicker Jake Elliott's record-breaking kick to beat the New York Giants might remind some of what happened a week earlier. At the end of the first half against the Kansas City Chiefs, Elliott had a chance to send the Eagles into the locker room with some much-needed momentum. At the end of the Giants game, he had a chance to, well, give the Eagles some much-needed momentum as they prepare for a west-coast trip and the rest of their season.
Both followed phenomenal catches, one by tight end Zach Ertz and one by wide receiver Alshon Jeffery. He missed that all-important kick a week ago. He nailed the one that followed a week later.
61-yard field goals are easy?
More from Inside the Iggles
Here's what's funny. Earlier in the Giants game, Elliott missed a 52-yard attempt that had the distance but carried wide of its' target. That one probably would have been good from 60 yards away as well. Had he hit it, the Eagles might not have needed him to attempt a game-winner with one second left on the game clock.
Elliott appeared on 94 WIP-FM's Morning Show with Angelo Cataldi . According to the Eagles rookie kicker, the final attempt of week three's game may have been easier than the 52-yard attempt. Why? He believes there was less pressure for two reasons. One, no one expected him to make a 61-yard field goal anyway. Second, even with a miss, the Eagles would have gone on to overtime.
Related Story: Jake Elliott is the toast of Philadelphia
From the source:
Perhaps the best explanation of that moment would come from the guy who made the kick in the first place. Elliott's game-winner was good enough to earn him his own press conference. Here's what he said about the moment:
"It's kind of all a blur to me. I don't really know, all I know is that the ball was in the air for a really long time and really close to that right upright…It's a little surreal. It's the life of a kicker though. You have your ultimate ups and ultimate downs and just trying to enjoy it and we'll move on."
There are a ton of highlights containing different vantage points of the moment. If you're an Eagles fan you've already seen them. If you aren't, you should check them out when you have a moment. For the former, we won't soon forget Mychal Kendricks and Kamu Grugier-Hill carrying Elliott off of the field.
We'll have to surpress the feeling for a moment however. It's time to employ the 24-hour rule as it's time to prepare for the Los Angeles Chargers. Philly will look to go 3-1 in that one.