2017 Philadelphia Eagles End of Season Awards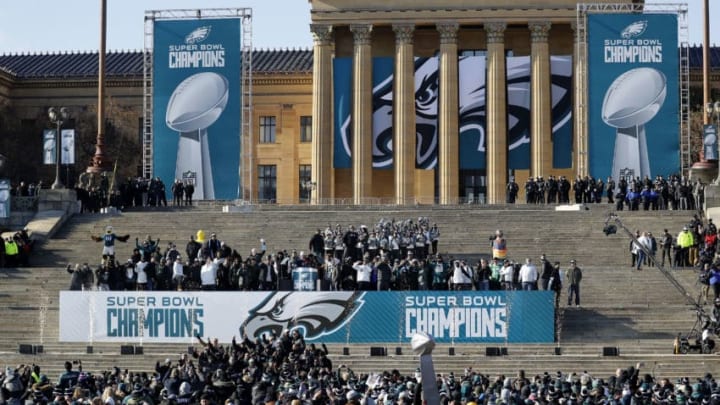 PHILADELPHIA, PA - FEBRUARY 08: Members of the Philadelphia Eagles celebrate during a ceremony honoring their Super Bowl win on February 8, 2018 in Philadelphia, Pennsylvania. (Photo by Aaron P. Bernstein/Getty Images) /
MINNEAPOLIS, MN – FEBRUARY 04: Jake Elliott /
Special Teams MVP: Jake Elliott
Regular Season Stats: field goals – 26 of 31 (83.9%), extra points – 39 of 42 (92.9%)
Postseason Stats: field goals – 7 of 7 (100%), extra points – 7 of 9 (77.7%)
If there was one word to describe Jake Elliott, it would be clutch. When the game was on the line Elliott came through. It's true that he would miss some shorter field goals or extra points that would make you scratch your head. But when we needed him, Jake the Snake was there.
Look no further than the game against the New York Giants in week three. It was only Elliott's second game with the team and early on he missed a 52-yard field goal. Not saying that a 52 yarder is an easy money kick, but you would obviously like to see him make it. So what does  Elliott then do? He comes back later in the game to nail a 46 yarder to tie it up and then drills a 61 yarder to win the game. That is the definition of clutch.
Next, take a look at every Eagles fan favorite game, the Super Bowl. Late in the first quarter, Elliott missed an extra point that would have put the Eagles up by seven. Instead, the Eagles only went up 9-3 and left the door open for the New England Patriots to take a lead if they scored. After that though, Elliott made every extra point and field goal he attempted. Including the game-icing field goal that put the Eagles up eight. The man delivered when the team needed him most.