One very interesting stat on Philadelphia Eagles WR Mike Wallace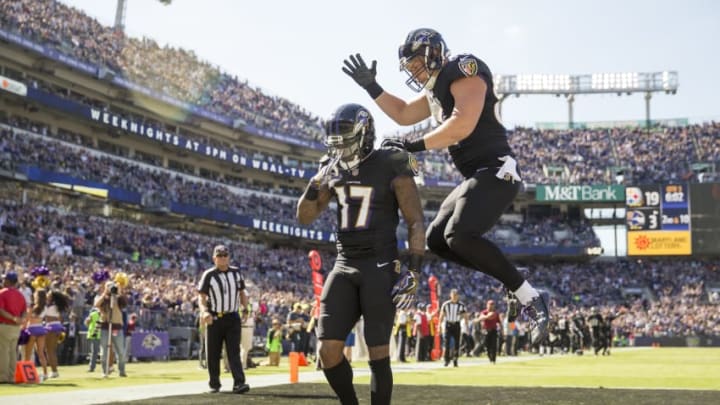 BALTIMORE, MD - OCTOBER 01: Mike Wallace /
We, at ITI, looked at one of the most trusted sites on the internet for NFL info, Pro Football Focus, and we found a very interesting stat on Philadelphia Eagles wide receiver Mike Wallace.
How can you not love Pro Football Focus? If you're financially able to do so and you're a fan of the NFL, it's well worth the price of admission. They provide an amazing perspective on both Fantasy Football information and stats. Daily, they cover our favorite game from a very unique perspective and provide a ton of great information. That became apparent once again when the Philadelphia Eagles added veteran wide receiver Mike Wallace by way of free agency.
Wallace's one-year, $2.5 million deal was done both out of necessity and, quite possibly, some trepidation. Despite a very impressive performance during the most recent NFL Playoffs, Torrey Smith's run in Philadelphia ended after one year. He'll always be remembered as one of Philly's favorite sons due to his contribution to the first Lombardi Trophy in team history, but some of his run in Philly will have two be looked at as a failed experiment.
Why? He made way too much money to produce 430 yards on 36 receptions and two touchdowns. He also had too many drops. Some of that led to some of the fear surrounding Wallace.
Let's look a some numbers.
More from Eagles News
Wallace's one-year deal in Philly wasn't totally born out of fear. Sure, there was talk of him aging and drops, but when you study the numbers, some of that may be overblown.
Wallace's regular season was a little more productive than Smith's. He hauled in 52 receptions for 748 yards and four touchdowns. As we mentioned in a previous story, though the subject of drops comes up when discussing both Smith and Wallace, Wallace only dropped three of 55 catchable passes (compared to seven of 43 catchable passes by Smith). Those numbers were provided by PFF as well. Yes, Wallace is older, but in a recent article by PFF, we learned something very interesting about what happens when Wallace goes deep.
Here's a quote. Take a look:
"The veteran pass-catcher generated a passer rating of 101.8 and posted a catch rate 42.9 percent from his targets of 20 or more yards downfield, which ranked sixth and eighth, respectively, among receivers with at least 20 deep targets in 2017."
Wallace also scored an overall grade of 74.5 for the 2017 season. That isn't too shabby for an old man. This Wallace trade is starting to look better all of the time. Eagles fans who are bummed out about the one-year deal shouldn't be. If Wallace steps in and performs, the Eagles and executive vice president of football operations Howie Roseman will find a way to keep him around. Period.