Philadelphia Eagles get their Super Bowl rings: 3 Interesting facts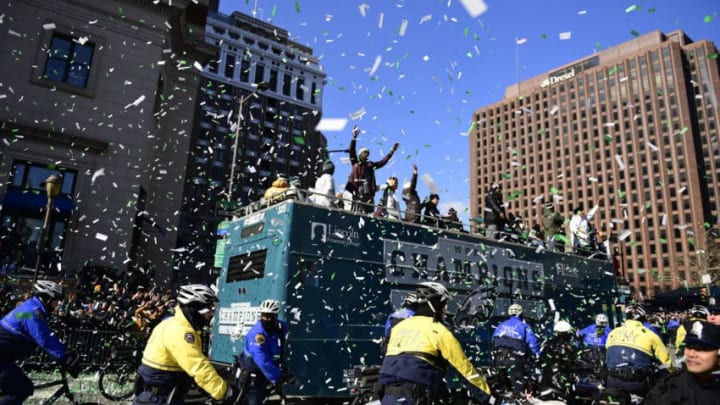 PHILADELPHIA, PA - FEBRUARY 08: Philadelphia Eagles players riding a bus relish the celebration during festivities on February 8, 2018 in Philadelphia, Pennsylvania. The city celebrated the Philadelphia Eagles' Super Bowl LII championship with a victory parade. (Photo by Corey Perrine/Getty Images) /
Unless you've been living under a rock, you're well aware that the Philadelphia Eagles finally have their Super Bowl rings, but here's a few things you may not know.
The news is no longer in the category of 'breaking', but it's still just as satisfying as it was when it was fresh. The Philadelphia Eagles finally received their Super Bowl LII rings to commemorate their 41-33 victory over the New England Patriots on June 14th. They've been the World Champions of the football universe for almost four months now. The hardware doesn't make that any more official. It just adds a little 'umph' to things.
Photos spread through the internet almost like wildfire as most of the East Coast was preparing for bed. Take a look at this masterpiece:
Here are three things you may not have heard.
1. There are a total of 219 diamonds and 17 green sapphires.
Well, you can't have a Super Bowl ring without diamonds, can you? This year's Super Bowl ring wasn't short on the bling. Along with 17 green sapphires and 219 diamonds, phrases like "family" and "We All We Got, We All We Need" are featured. Each piece is made of 10-karat white gold.
It's quite the sight to behold.
2. A former team secretary will get one of her own.
More from Eagles News
Remember that guy that preceded Eagles head coach Doug Pederson? You know the one. We, at ITI, often refer to him as 'that coach who shall remain nameless'.
Well, he didn't just gut the team and ship some of the most beloved players on the roster elsewhere. He also fired a former team secretary who had been with the organization for more than 30 years.
On Thursday night, she was awarded with a ring of her own. Do you see why it's so easy to love this team?
3. 'Dawk' gets two rings in 2018.
Eagles great and former safety Brian Dawkins won't just get a Pro Football Hall of Fame ring when he's inducted on August 4th. He also get a Super Bowl ring for his service to his team in 2018. We, at ITI, made many of you aware of that news in a previous story.
Reading the words aren't quite enough though. You have to see it for yourself.
If this is 'the new norm', we can definitely get used to it. What about you?