Local artist showcases talent at 2nd annual Philadelphia Eagles Autism Challenge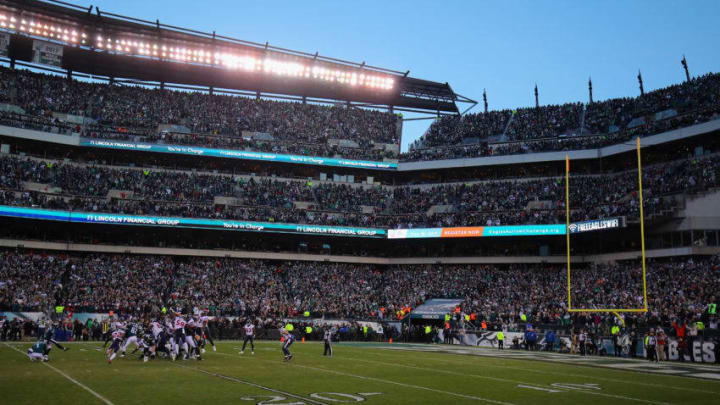 PHILADELPHIA, PA - DECEMBER 23: Jake Elliott #4 of the Philadelphia Eagles kicks the game-winning field goal during the fourth quarter to defeat the Houston Texans 32-30 at Lincoln Financial Field on December 23, 2018 in Philadelphia, Pennsylvania. (Photo by Brett Carlsen/Getty Images) /
Local artist Kambel Smith showcases his talent with a Lincoln Financial Stadium sculpture at 2nd annual Philadelphia Eagles Autism Challenge.
Kambel Smith is a 32-year old autistic artist, who has gained notoriety for his large-scale cardboard sculptures of the buildings that can be seen throughout the 'City of Brotherly Love'. In January, Smith received national attention when his work was featured in the Inquirer's 'We the People series'. The series centers around everyday Philadelphia Eagles fans who make the city 'extraordinary'.
Some of Smith's sculptures included the Divine Lorraine Hotel, City Hall, and the Loews Philadelphia Hotel. Some of his sculptures were purchased by the American Folk Art Museum and the West Collection.
Smith's latest art piece was a 6-by-6  foot sculpture of Lincoln Financial Stadium, and was presented at the Eagles Autism Challenge's kickoff dinner the night before the annual event.
Take a look:
Ryan Hammond, the executive director of the Eagles Autism Challenge recently spoke about how the Eagles' organization was eager to work with Smith to promote a positive connection around autism.
Here's what Hammond said.
"Sometimes autism is looked at as a disability, but with him we're looking at it from an ability standpoint. It gives other families hope to look at what their child is passionate about and, if they give them a path, what they can achieve in the future."
The 2nd annual Eagles Autism Challenge had more than 3,600 people in attendance, and raised over $3.37 million towards autism research.
Hammond was very pleased with the recent turnout.
RELATED PRODUCT
Philadelphia Eagles Womens Family Holiday Pajamas - L /
Philadelphia Eagles Womens Family Holiday Pajamas - L
Buy Now!
Buy Now!
Here's what he had to say in reference to that.
"This has been incredible. To go from having a first-year event that was so successful, almost unprecedented as we raised $2.5 million, had 3,300 participants, 25,000 donors from around the world, you step back and you say, 'How can you build on something like that?' I think you want to carry through the momentum, and I think that's what we've done. We have successfully weaved the Eagles Autism Challenge into our brand. It's not 'Why autism?' anymore. We've made the connection with the community and I think that's probably been the most important thing."
In 2018, the Centers for Disease Control's Autism and Developmental Disabilities Monitoring reported that approximately one in every 59 children in the United States has been identified with an Autism Spectrum Disorder. The Eagles organization has joined the fight and raised a lot of money for research.
Seeing contributions like the ones Smith is making allows us to see what can happen if we, as people, continue to do our part and what can happen when those diagnosed maintain positive attitudes and are surrounded by people with positive attitudes. This is truly good work by everyone involved.