Philadelphia Eagles: 2 theories about their line and neither makes sense
Here are two zany ideas on what to do with the Philadelphia Eagles O-line.
After two days of NFL games and an 'Overreaction Monday' if you're a Philadelphia Eagles fan, we've all channeled our inner-general manager. Everybody's an expert on who should be traded, who teams should pay, and, of course, who needs to be run out of town.
Philly's franchise signal-caller, Carson Wentz, is always on the trade block if you listen to about half of the 'Birds' fan base, but believe it or not, despite the fact that many of you have already hung him an effigy when the more appropriate response may have been to hang one for Howie Roseman, the biggest concern on Philly's roster isn't at the quarterback position.
This team's biggest issue is its offensive line, and everyone has a theory on how to fix it. Here are two ideas that might be considered as being ridiculous. Oh, and one of them is something wild that we at ITI came up with.
Here we go again with the 'kick Zach Ertz off of the Philadelphia Eagles' theories.
As many of us were finally realizing that we were ready to move on from a gut-wrenching Eagles loss and, in some 'Birds' circles, preparing to watch what we hoped would be a Pittsburgh Steelers victory over the New York Giants on Monday Night Football, former New York Jets general manager Mike Tannenbaum proposed a trade, one that sends Zach Ertz to the Dallas Cowboys in exchange for Zack Martin.
No, seriously. That's what he said. Take a look.
With that, we can all see why this guy is a 'former' G.M. and why most of us haven't thought about him for months until he made this statement.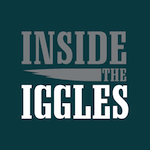 Want your voice heard? Join the Inside The Iggles team!
Write for us!
So, let's get this straight. After struggling to control Jason Witten for what feels like 20 years, Tannenbaum's theory is to give Dallas another great tight end, one that Philly has to limit twice a year. This comes after losing CeeDee Lamb to the Cowboys in the most recent NFL Draft. Yes, let's give them another great weapon. Great idea! Zack Martin is great, and Philly needs help on the O-line, but the cost the eagles would have to pay to land him is too high. This one is ridiculous. Let's move on.
Here's a fair warning Philadelphia Eagles fans. You may not like our idea any better.
Okay, hear us out on this one. Jason Peters is now playing left tackle and making left tackle money, as some of you wanted. Half of our staff didn't want that, but you did. We wanted Cordy Glenn. As a matter of fact, we still do, so why not do this?
Why not sign Cordy Glenn, give him a one-year deal (you don't need him past that), and move 'The Bodyguard' back to right guard? Sure, he'd be an old and overpaid right guard, but at least he doesn't have to try and hold up against edge rushers. That's not who he is anymore.
Nate Herbig was good, but he isn't great. Stick Glenn at left tackle next to Isaac Seumalo. Keep Jason Kelce at center obviously, and place Peters at right guard next to Lane Johnson, who said on Derek Gunn's Gunn On One with Derrick Gunn podcast that he's playing in Week 2. Do that, and this Eagles offensive line might be respectable.