Brandon Graham avoided the pitfalls of a microwave society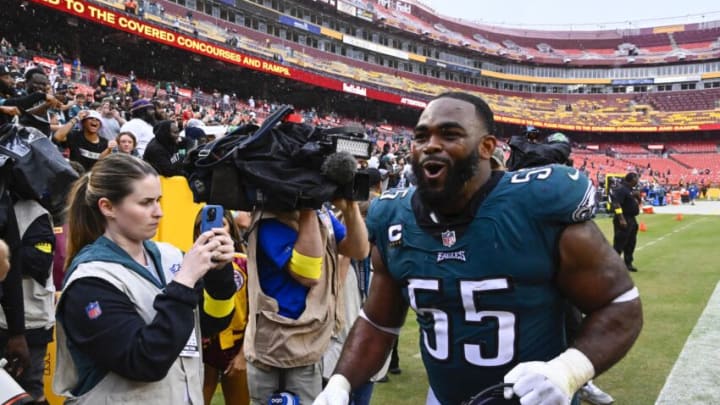 Brandon Graham, Philadelphia Eagles (Mandatory Credit: Brad Mills-USA TODAY Sports) /
Living in a microwave society has taught us something ten times over. Sometimes, things won't materialize as quickly as you thought they might. Watching Brandon Graham play for 13 NFL seasons (all of which have been in a Philadelphia Eagles jersey) has taught us shown us something else. Sometimes, things that come easy aren't worth having. Oftentimes, things that are worth having won't come easy.
For the first time in his career, Brandon Graham has earned NFC Defensive Player of the Week honors. This is the second time an Eagle has taken that distinction in as many weeks. Darius Slay was given that nod after Week 2. For B.G., this recent honor is a microcosm of one of the most successful (and one of the most unique) careers in franchise history.
Had B.G. lacked patience, his career would have ended years ago. If B.G. wasn't a warrior, his career would have ended even earlier, and had B.G. grown up with the mindset created by a microwave society, he never would have made it out of his rookie season.
Brandon Graham is one of the most beloved and underappreciated Eagles ever.
We've been watching Brandon Graham for more than a decade, and we can still remember the day he was drafted like it was yesterday. During the first round of 2010's NFL Draft, the Philadelphia Eagles traded up to the 13th-overall selection. We thought they were doing so to select Earl Thomas. After all, Philly was having a hard time finding a replacement for Brian Dawkins at the safety position. Seemingly, this was a slam-dunk selection.
The Birds went with a defensive end from the Michigan Wolverines. Things started slow. It didn't help that Earl Thomas was crafting a Hall-of-Fame-worthy resume with the Seattle Seahawks, but Thomas hasn't played a game in the NFL since January 11th of 2020. Meanwhile, B.G. is still going strong.
After rupturing his Achilles tendon just two games into his 12th season, he's back with a vengeance. In 2020, he earned the first Pro Bowl nomination of his career. If he continues on the path that he's on after Week 3, he might earn another, but truthfully, if we want to be technical, that Pro Bowl selection two seasons ago probably should have been his second or third.
He was a Second-Team All-Pro in 2016. In 2017, he racked up 9.5 sacks and two forced fumbles. We can also argue that this recent honor, one he's, again, also enjoying for the first time, should have found its way to him before.
Remember that time he racked up six tackles, three sacks, and five additional quarterback hits in 2019 versus the New York Jets? What happened there? And, don't give us that nonsense about him being disqualified because 'it's only the Jets'.
Brandon Graham is more than one of the greatest Eagles to wear the midnight green. He's also a national treasure. Sure, things got off to a slow start. We can also argue that things took longer than they should have for a first-rounder, but people have to understand something.
Sometimes, it takes longer. That's why teams hire coaches. When we see guys like Patrick Mahomes and Justin Herbert take off immediately, we sometimes believe that should be everyone's story. We accept the theory that it takes time to develop quarterbacks. We forget that other positions need to be developed as well.
His spot in the Eagles Hall of Fame is certain. His place in Canton may not be, but Brandon Graham can hang his hat on being one of the most beloved Birds ever and being the author of the greatest strip-sack in Super Bowl history. Thank goodness he didn't listen to the complaints or get down on himself.
He won't play forever, even though it seems like he could if he wanted to, but aside from having one of the greatest smiles in franchise history, he's also done something else. Anyone that wears the Number 55 Eagles jersey once he's done playing has a lot to live up to.